The Unit, Personal, and Family Readiness Program (UPFRP) is a unit centric program, guided by the Family Readiness Command Team that reinforces the relationship between the unit and the services relevant to the unit, the unit members, and their families. The primary goal of UPFRP is to empower Marines and family members, providing them the opportunities to not just survive but to thrive while taking on the challenges of the military lifestyle.
Readiness & Deployment Support educates and prepares military members and their families to cope with the challenges of all types of deployments and family separations including the Command team members and Deployment Readiness Coordinator who will guide families and Marines through deployments.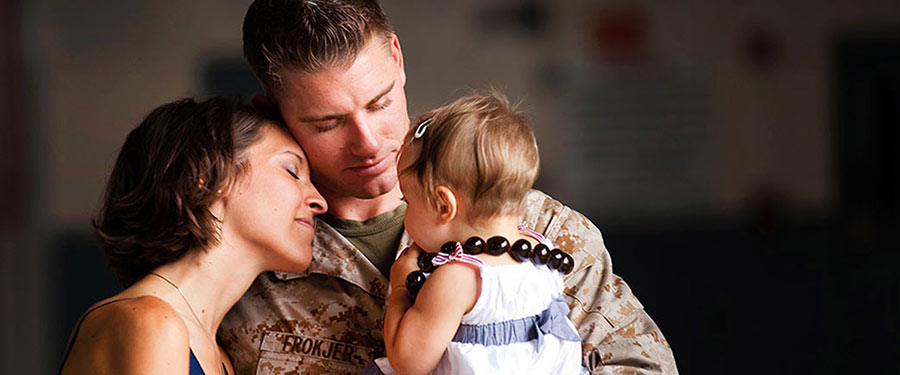 WHAT'S FAMILY READINESS?
"Family readiness is defined as families who are prepared and equipped with the skills and tools to successfully meet the challenges of the military lifestyle."
Family readiness is equally important as combat or mission readiness.
WHAT IS A MARINE'S FAMILY?
A Marine's Family is defined as being all the designated members of a Marine's Family. A Marine has three Families: the one they are "Born Into", "Sworn into" and "Married Into."
WHAT'S A UNIFORMED READINESS COORDINATOR (URC)?
The URC is the face of the Commanding Officer's vision for family readiness and will provide direct coordination for the Unit Family Readiness Program.
FAMILY READINESS PROGRAM TRAINING
All training is held at MCFTB classroom Bldg 5E. Family Readiness Training is available in person and virtually.
COMMAND TEAM TRAINING
Available upon request for members of the Command Team.
READINESS COORDINATOR TRAINING
Available upon request for DRCs & URCs
CO/SENIOR ENLISTED SPOUSE TRAINING
This training is available upon request for CO/Senior Enlisted spouses who would like to assume a role within the Unit Personal and Family Readiness Program.
UNIT FAMILY READINESS ASSISTANT/ADVISOR TRAINING
Required by Headquarters Marine Corps (HQMC), this training prepares Family Readiness Advisors and Assistants to perform their duties for the Unit Family Readiness Program
A Family Readiness Assistant or Advisor is a spouse, Marine, or designated parent or extended family member of the unit, appointed in writing by the Commanding Officer.
These Volunteers support the unit family readiness program in several ways: welcoming unit families, providing feedback from unit families and assisting with information and referral services.
Training is conducted monthly. Sessions rotate between days, evenings and weekends to accommodate all schedules.
TOPICS COVERED
Roles and responsibilities of the command team
Volunteer management
Family Readiness communications
Readiness and deployment support
Supporting agencies and resources
Supplemental information
Hours
Monday
0730-1600
Tuesday
0730-1600
Wednesday
0730-1600
Thursday
0730-1600
Friday
0730-1600