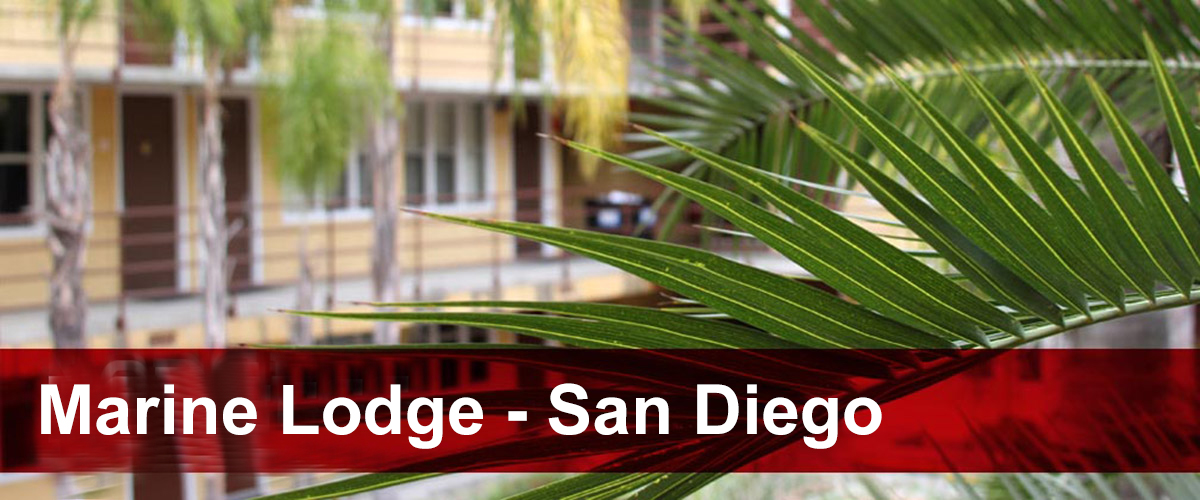 New Lodging Space Available Rates beginning February 1, 2023
| | |
| --- | --- |
| Private Two Twin Beds w/Shared Bath | $93/night |
| Family Style 2-Bedrooms (2 Twin Beds per room) w/Private Bath | $186/night |
| Family Style 2-Bedrooms (1 Full Bed per room) w/Private Bath* | $186/night |
| Private Full Size Bed w/Private Bath | $93/night |
| One Full Bed w/Shared Bath | $93/night |
| Enlisted 2-Room Suite – Queen Size Bed with Separate Living Room | $126/night |
| DV Enlisted Suite – Queen Size Bed with Separate Living Room | $126/night |
| Private Officer Room – Queen Bed w/Private Bath | $142/night |
| Private Officer Suite | $142/night |
| DV Officers 2-Room Suite – Queen Size Bed w/Separate Dining & Living-room | $181/night |
* Families traveling with children under 7 years old or 45″ tall are restricted to 1st floor room reservations only, without exceptions. As per base regulation, only service animals are authorized aboard MCRD San Diego; pets are not permitted.
WHO IS ELIGIBLE TO STAY AT THE MARINE LODGE SAN DIEGO?
Active Duty Military, DoD and NAF Personnel, Retired Military, Service-Connected Disabled Veterans (VA), and the Families of Graduating Marines (Graduation week only, Wednesday-Saturday).
WHY WOULD I WANT TO LODGE AT MCRD?
Located just 200-yards from graduation events, the Marine Lodge San Diego is conveniently located within short walking distance to shopping, entertainment, dining, the Marine Corps Museum, Basic Recruiting & Drill Instructor schools. Located between San Diego's Historic Old Town District & Point Loma, local attractions abound just outside the perimeter gate. Marine Lodge guests skip the hassle of long security lines and are conveniently located nearby to everything San Diego has to offer.
WHAT KIND OF ROOMS DO YOU HAVE?
Standard rooms share occupancy; two twin beds in each room; adjoining rooms share a single bath. Additionally, the Marine Lodge maintains 8-Queen Bed Enlisted Suites (living room/bedroom combination),11-Queen Bed Officer Suites, 2- Queen Bed Officer Rooms with private bath & 1- Distinguished Visitor (DV) Suite comprised of a Queen Bed Suite with a separate living room/ dining room.
WHERE ARE YOU LOCATED?
Building 625, across the street from the MCX Mall
Our front desk is open 24/7 and can be contacted at (619) 524-4401, DSN: 619.524.4401
Contact Information
Marine Lodge - San Diego
Follow Marine Lodge - San Diego: