Using an integrated community health approach, the Community Counseling Program (CCP) equips Marines and families with the skills to address life's challenges before there is significant impact to performance in their duties and relationships. The CCP assists Marines and families in accomplishing their personal goals through short-term solution focused counseling, skill enhancement, education and referrals to other helping resources.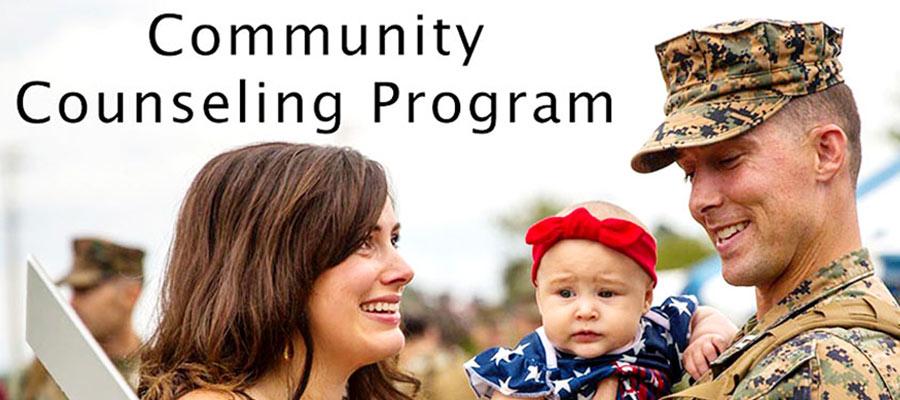 The Community Counseling Program (CCP) provides non-judgmental, and evidence-based counseling services for Active Duty service members and their families. Services are confidential and maintained separately from the military medical record. We offer individual, couple, child and family counseling. In-person, virtual, or hybrid services are offered.
We can help you address issues related to:
Marital/Relationship Issues
Anxiety
Anger Management
Parenting
Stress
Depression
Conflict Resolution
Grief and Loss
Coping Skills
Deployment Stress
Communication Difficulties
Work Related Issues
Balancing Work and Home Life
Problem Solving Skills
Decision Making Skills
Adjustment Difficulties
Child Behavioral Concerns
Service Philosophy
Marine & Family Programs' goal is a foundation of readiness and resiliency. We reinforce that foundation with personalized service, and an innovative approach.
We hold as our guiding principles, that:
• We Do the Right Thing
• Our Mission is You
• There is No Wrong Door
Mission: To provide tools and resources which promote a ready and resilient Marine Corps Recruit Depot
Vision: To enrich lives through a comprehensive array of innovative programs and services

To make an appointment contact 619-725-6377 and leave a message.
(Phone line is monitored Monday-Friday 0730-1600)
Office Hours
Monday
0730-1600
Tuesday
0730-1600
Wednesday
0730-1600
Thursday
0730-1600
Friday
0730-1600
CCP Walk-In Hours
Wednesday
1000-1200 Office #3
Thursday
1300-1500 Office #1