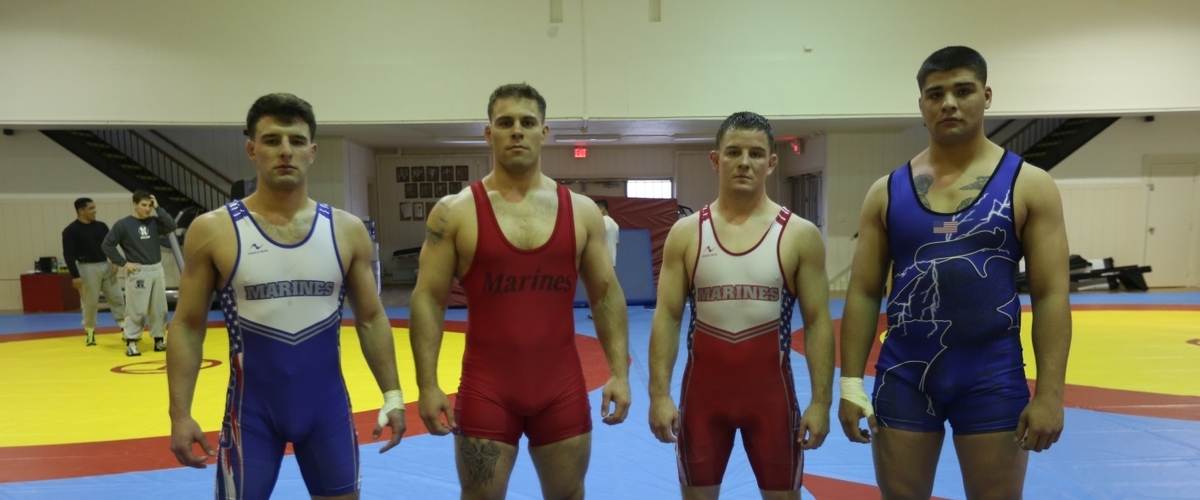 ---
If you're trying to decide between joining the military and pursuing a career in amateur sports, you may be able to do both. The Marine Corps has teams that if you qualify for will become your job for the Marine Corps during that particular sports season.
The All-Marine Corps Sports Program provides opportunities for exceptional Marine athletes to compete at higher level competitions such as the Armed Forces Championships, National Championships, International Championships, and the Olympics. The All-Marine Corps Sports Program has produced multiple athletes that are nationally ranked. "I would like Marines and future Marines to know that the Marine Corps provides many opportunities to excel," said All-Marine Corps Head Wrestling Coach Jason Loukides. "The All-Marine Corps Wrestling Team is just one program of many."
This year U.S. Marine Corps Capt Bryce Saddoris, 1Lt Michael Brant, 1Lt Dan Miller and LCpl Eric Fader competed in the Olympic two-day trials in Iowa City April 9-10, 2016. "Our Marine Corps wrestlers were proud to represent the entire Marine Corps when they were competing and they continue to uphold the Marine Corps values while also demonstrating that Marines are capable of maintaining high standards in their military career, athletics, and other endeavors," said Loukides.
Each member of the team had to have qualified for the Olympic Trials in Iowa City to complete in the Olympics. Fader came in 5th place for the Senior Nationals and Trials in Dec. 2015; Saddoris earned the title World Team Member in Sept. 2015 World Championships; Brant, Bronze Medal in the Paris Tournament; and Miller, Bronze Medal in the Grand Prix Zagreb Open in Feb. 2016.
Coach Loukides has tailored training plans for each athlete. The athletes focus on drilling positions while under forced muscle fatigue to simulate a realistic scenario. "I am forced to perform within specific parameters which again simulate very realistic scenarios," said Miller. "We are working on better positioning and technique than our opponents for the tournament."
These Marines are afforded incredible opportunities to train with some of the best athletes. Their practices include fine tuning exercises, technique, weight management and mental preparation. This elite group of four perform in high intensity workouts that involve running, sprints and lifting weights five days a week and on weekends they run to maintain their shape and manage their weight.
Brant said the team eats a healthy diet. "Typical ingredients we eat are lean proteins such as chicken or fish and lots of vegetables to replenish nutrients and complex carbohydrates," said Brant. The Marines know that putting in the extra time daily with a proper diet will pay dividends on the mat during a match.
Saddoris entered the sport of wrestling at the age of four in Colorado. "My mom needed something more constructive for me to do rather than being destructive as a young boy with a ton of energy," said Saddoris. "I have continued to wrestle non-stop. It is a sport that truly builds character and I have learned the importance of hard-work, discipline, and sacrifice."
Fader, 19 years old, was the Marine Corps heavy weight. He just graduated high school last year. "I began wrestling at a very young age," said Fader. "One day in High School I fell in love with the sport. My experience wrestling with the Marine Corps has only been a year. But during this time, I have had the opportunity to be an ambassador for the Marine Corps and have gained life experiences that will only contribute to my development as a leader of Marines."
The All-Marine Corps wrestlers did not qualify for the Olympics this year, but gave it their best on the mat in Iowa City this month. According to Loukides, the Marines handled the highest levels of success with class. He was proud for how these Marines handled themselves with their loss. "It was a tough couple of days for the All-Marine Corps wrestlers at the Olympic trials," said Loukides. "We went into the competition with high expectations and many hours of preparation. When you have worked as hard as these Marines have and dream as big as they have dreamed, losing can test what you are made of. This is the best part of wrestling. It never gets easy, it is always a fight, and you have to answer to your results, win or lose."
You can follow the team's progress throughout the season at the Armed Forces Sports website. The All-Marine Corps Wrestling Team is stationed at Camp Lejeune, N.C. and competes year round. Interested in joining the team? Click here to learn more.