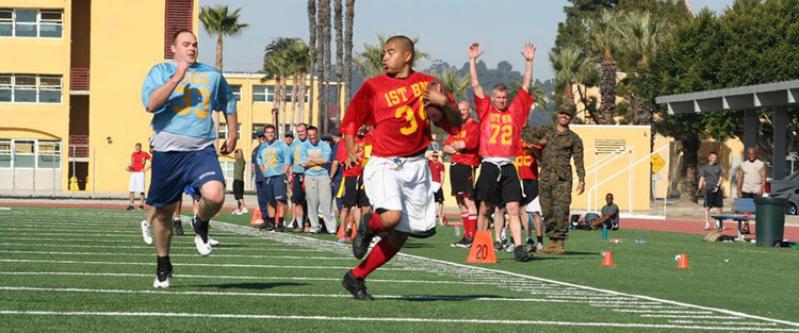 The Semper Fit Athletic Department offers an opportunity for individuals to compete in a variety of athletic events to promote quality of life and combat readiness. Intramural Sports at MCRD's dynamic Athletic Department can help you in your athletic endeavors. For athletic check out all items can be obtained at Gear Issue, telephone (619) 524-6180.
THE FIELDS
Our fields and courts are clean,regularly maintained, and beautifully manicured. Reservations for play at any of the field and courts can be done through the Athletic Department either by phone or by stopping by during regular business hours.
2 Softball Fields
3 Tennis Courts
5 Outdoor Basketball Courts
3 Sand Volleyball Courts
6 Horseshoe Pits
1 Soccer Field / Football Field
5 Racquetball Courts
1 Indoor Basketball Court
2 Wallyball Courts
1 Running Track
1 Indoor Volleyball Court
Putting/Pitch/Drive Range
JOIN IN THE FUN RUN
We have one 5K fun run. Our primary goal, at our themed fun run, is to encourage physical activity, motivate the military community, and promote espirit de corps. Everyone is welcome; Active duty Marines, Sailors, Coast Guard Personnel, civilian employees, and their families are all welcome to participate.
Restrictions
All CG Cup events are only open to MCRD active duty + DoD/NaFi employees aboard the depot.
Hours
Monday
0730-1600
Tuesday
0730-1600
Wednesday
0730-1600
Thursday
0730-1600
Friday
0730-1600