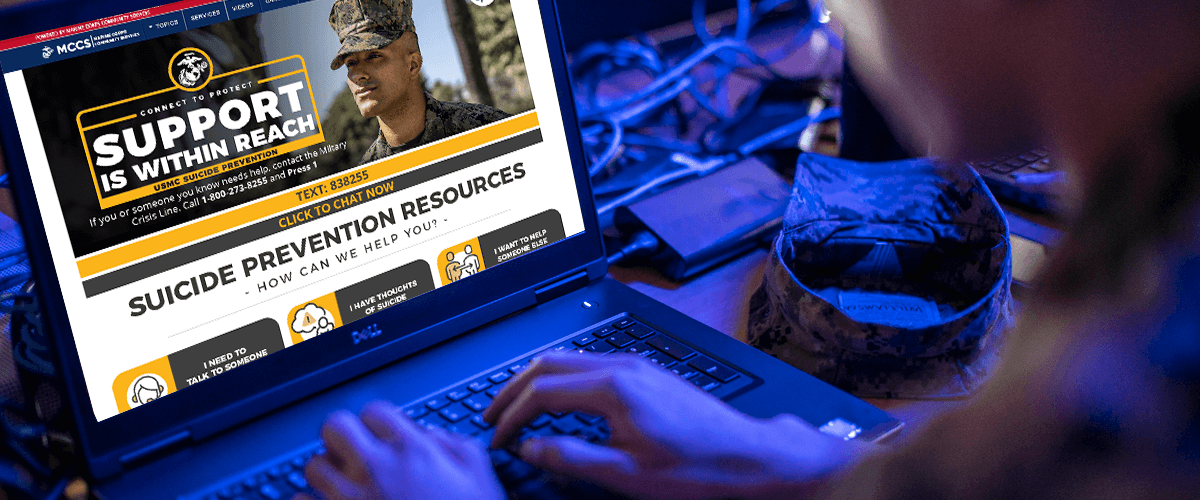 ---
It's midnight and you can't sleep. Too much on your mind.
Maybe stress at work.
Or you're feeling down lately.
Or your spouse's recent behavior has you worried.
A Marine in your unit seems to have lost interest in just about everything.
What can you do? Where can you turn?
Go online and check out the Marine Corps' new Interactive Suicide Prevention and Mental Fitness Resource. (Click on the Prevention Skills You Can Use button.)
Browse through the sections and dip into something that grabs your interest.
For example, everyone experiences stress, and you will learn about the different levels of stress and ways to cope with your stress before it becomes overwhelming.
You might pick up pointers on having open and honest conversations with someone you worry might be having suicidal thoughts or how to recognize warning signs in yourself and others.
You could learn strategies for problem-solving, tips for managing stress, or important safety warnings about lethal means.
The resource highlights the variety of Marine Corps Community Services (MCCS) programs that assist Marines and their families as they navigate life's challenges.
Use the information as needed to help you help others, maintain your readiness, and strengthen your fitness and resilience.
If you or someone you know is experiencing thoughts of suicide, call 911 for an emergency dispatcher or 988 (press 1) for the Military/Veterans Crisis Line. Chat online at veteranscrisisline.net, or text 838255.
What's in the resource?
---
Mission Possible: Suicide Prevention
Suicide is complicated and tragic, but it's also preventable.
Marine Corps Culture and Identity
True purpose comes from knowing you're part of something bigger than yourself and a sense of belonging that's only found among those who share in a common moral cause.
Everybody Experiences Stress
Learning healthy ways to manage stress and getting the right care and support is crucial.
Build Valuable Life Skills: Self-Compassion and Self-Exploration
Self-awareness and assists with managing emotions and improves problem solving, self-esteem, communication, relationships, and empathy.
Build Valuable Life Skills: Coping and Problem-solving
We all face obstacles and difficulties, but it's how we handle those situations that determines how they affect our stress levels.
Build Valuable Life Skills: Healthy Relationships
Healthy relationships include boundaries, self-control, communication, and respect.
Build Valuable Life Skills: Mindfulness
Mindfulness aids in relaxation and the management of stress, lowers blood pressure, helps to improve relationships, and promotes overall fitness.
Lethal Means Safety Protects Everyone
Ensuring lethal means, such as firearms and medications, are removed or safeguarded is critical during times of increased stress when the risk of suicide is heightened.
Tap into Helping Resources
Individuals and units must be mission ready and continue to strengthen their physical, mental, social, and spiritual fitness. MCCS programs stand ready to assist.
988 and Military/Veterans Crisis Line Information
If you or someone you know is experiencing thoughts of suicide, call 911 for an emergency dispatcher or 988 (press 1) for the Military/Veterans Crisis Line (veteranscrisisline.net).