MCCS Marina & Boating programs offer the water sport enthusiast a full range of boating and water amenities, where water and fun is met by your choice of sailboat, powerboat, kayak or paddleboard. Also offered is a full range of boating services from wet and dry storage to fueling. Your MCCS marina is here to ensure that more time is spent enjoying life on the water!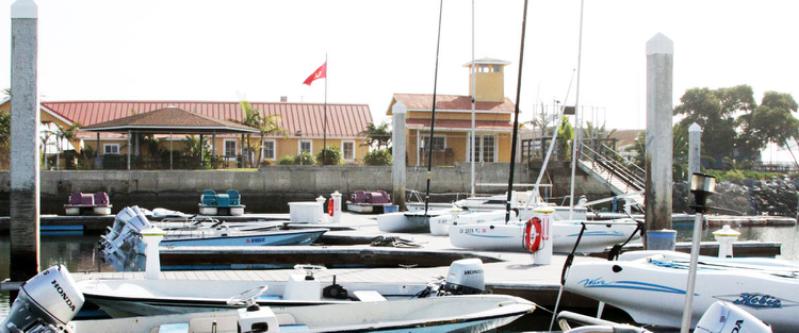 Boathouse, Marina and Recreation Area
The Boathouse, Marina and Recreation Area provides equipment rentals, picnic areas available for reservations, Boston Whaler Boats, Ocean Kayaks, surfboards, wetsuits and much more for your entertainment on the water. The Boathouse & Marina features:
• 24-hour Marina security patrols
• Recreational boating rentals
• Launch ramp
• Bait
• Ice
• Marina slip amenities include water and power
• Sand Volleyball court
• Basketball court
• Horseshoe pits
• Playground
• Picnic areas with BBQ's
RELAX
The three pavilion areas at the Boathouse & Marina are attractive sites suitable for small or large group events. Reservations must be made in person by stopping by the Boathouse & Marina during regular business hours. Priority for reservations is on a first come, first serve basis.
PAVILIONS AVAILABLE FOR RESERVATIONS
North Pavilion
• Pavilion
• Picnic tables
• BBQ
• Sand Volleyball Court
• View of the marina slips
East Pavilion
• Pavilion
• Picnic tables
• BBQ
• Two Horseshoe Pits
West Pavilion
• Pavilion
• Picnic tables
• BBQ
• Extended view of the Marina
MARINA FEES
Slip Fees
$270/month; maximum boat size is 30 feet
Guest Slips
$20.00 per night
Kayak/Canoe/SUP Storage
$10.00 per month per item
Required paperwork for slip rental:
Current boat registration
Current boat insurance, including:
The policy shall name Headquarters Marine Corps (HQMC CMC/MR) and MCRD MCCS Boathouse/Marina as additionally insured.
Spill Coverage stated on the policy
If the boat is older than 10 years, a current marine survey is required.
RESTRICTIONS
Available to eligible patrons only.
• Active duty, reservists, retirees with a valid military ID
• NAFi/DoD employees
Hours
Monday
0730-1700
Tuesday
0730-1700
Wednesday
0730-1700
Thursday
0730-1700
Friday
0730-1700
Saturday
0730-1700
Sunday
0730-1700
Holidays, call for hours.